Welcome to the Franklin 1 Home Learning Page
Franklin 1 Home Learning
We would like you to read the tasks below and encourage your child to engage with as many of these tasks as possible. We are committed to making sure that your child is still learning as much as possible at home but we understand that this can be challenging at times. Please contact your individual class teacher for any support or advice you require; either through email, or your weekly 'Keeping In Touch' PING. Please email any photos of activities undertaken to your class teacher.
Per day we suggest:
Listen to the story (see below)
Engage with one maths activity
Engage with one English activity
Engage with one other activity (Sensory, PE or Topic)
**New Topic!**
Mr Read and our Humanities Lead have been working with the British Council, our local cluster schools and overseas colleagues on the British Council's Global Connecting Classroom project since the beginning of this year. Classrooms through Global learning cluster is a group of schools in the UK and overseas that work together to support one another with global learning. Our partner school, Silver Oaks School and College is based in Pakistan and a number of our cluster schools have also partnered up with schools in either Bangladesh or Pakistan. We hosted our overseas visitors and cluster schools earlier this year in March, where we completed our first project together on the global sustainable development goals. The Global connecting classrooms programme tackles issues like climate change, gender equality and how to live sustainably which affect us all - and connect us all - wherever we are in the world. Teaching pupils about these issues is what we call global learning. The whole school will be learning about Clean Water and Sanitation over the next few weeks. In Franklin we will also be learning about Water and this will be our Topic focus until July. We would really appreciate any photos of any activities connected to this topic emailed through. Many Thanks.
Sensory/O.T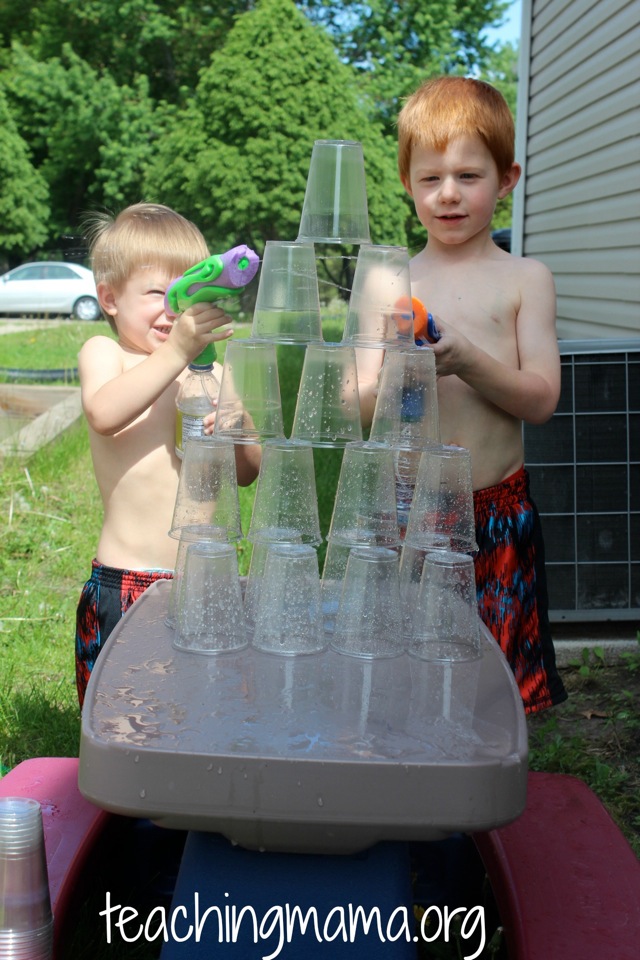 See the website below for some really fun water play activities that will develop motor skills. I particularly like the idea of using water guns to knock plastic cups over!
https://teachingmama.org/water-play-activities/.
You could also make sensory water bins. Your child could use a net or colander to 'go fishing' or you could make it more challenging by using plastic letters and asking them to search for a certain letter or the letters from their name. See the website below for more ideas.
https://www.theottoolbox.com/water-bin-play-ideas-for-kids-play/
PE/Motor Skills
Get your child active with these water activities:
https://wonderadventures.co.uk/ideas-for-water-activities/
Topic
Water, Water Everywhere!
Painting with Ice cubes
Try painting or mark making with coloured ice cubes.
Bubble Painting
Or you could try bubble painting. There are lots of different methods. You could mix paint and bubble solution together and blow the bubbles on to paper using a bubble wand or use a tray of bubbily water. Both ideas are below.
https://typicallysimple.com/bubble-painting/#:~:text=Directions%20for%20Bubble%20Painting,they%20land%20on%20the%20paper.
https://www.activityvillage.co.uk/bubble-painting
Continue with these from last week:
Have a go at conserving water
Water your plants with collected rainwater or cooking water, e.g. pasta water - take photos and email them to me. Encourage your child to help you do this everyday this week.
Washing fruit and vegetables
Get your child to help you wash fruit or vegetables in a bowl of water instead of under a running tap. Again, take photos and email them to me. All your photos will be made in to a Home Learning display in September!
English, Maths, Speech and Language
Please continue to access your weekly Home Learning PING for individual english, maths and speech and language activities. Until the end of term our activities will connect with our Water theme wherever possible.